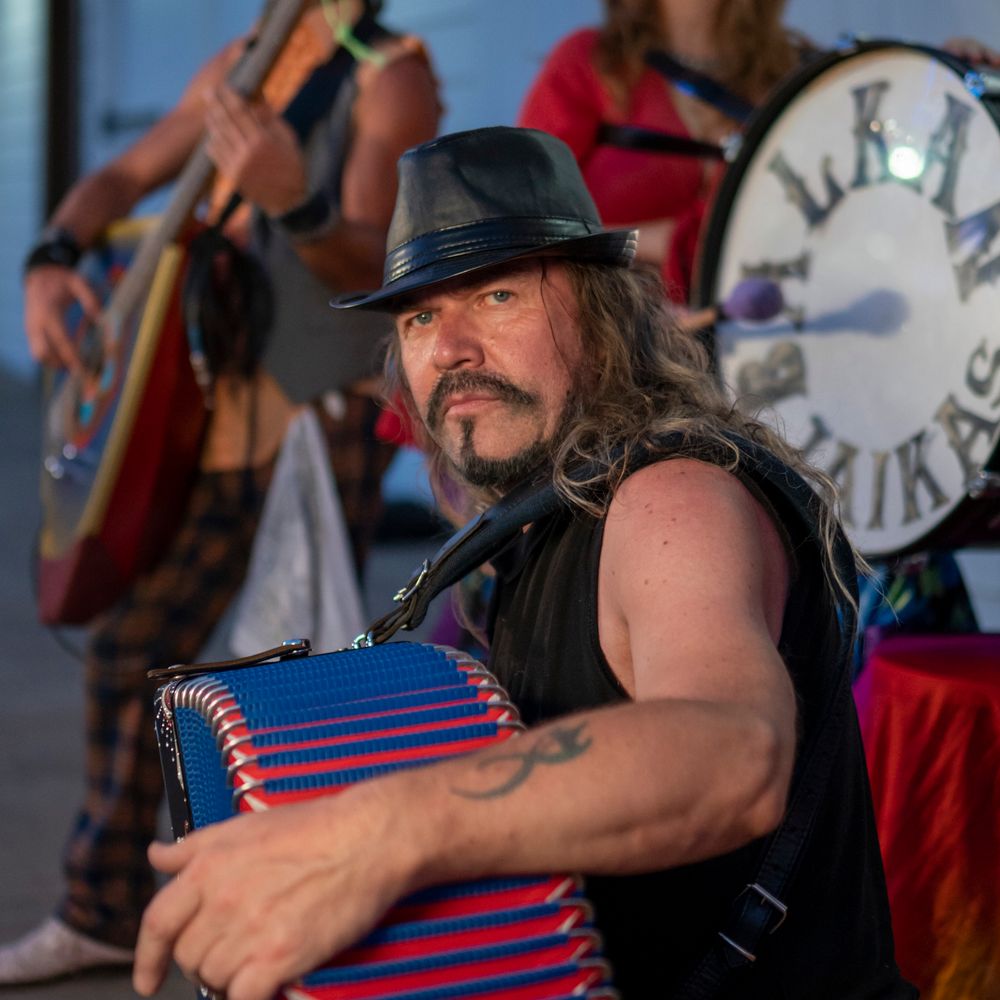 Balkan Laika's
Get Ready to Dance Around the World
We are thrilled to introduce you to Balkan Laika's, a dynamic and energetic Roma (gypsy) band that is sure to leave audiences dancing and cheering for more. With their fusion of traditional Balkan music and contemporary influences, Balkan Laika's is a unique and exciting addition to any festival lineup.
The band's dynamic performances are a celebration of the rich and vibrant cultures of the Balkan region, and their music is an invitation to join them on a journey through time and space. With their infectious rhythms and high-energy performances, Balkan Laika's is sure to get audiences on their feet and moving to the beat.
New era of Balkan Laikas
Capturing a New Beat: The Face of Balkan Laikas
Introducing a new era of Balkan Laika's, our new powerful image! Our latest band photo, a snapshot that embodies our evolution, and our passion. At the heart of this transformation is our newest member, Valkiri. A Bass drummer, a daughter, and a symbol of dedication, Valkiri's journey from practice to the big stage is a story we're proud to share.
We embrace this new chapter, stay tuned for the release of our best music collections under our new name, Balkan Laikas, coming next month. This photo is just the beginning; a new horizon awaits.
Celebrate with us, connect with us, and be part of this exciting journey. The beat continues, and the best is yet to come!
Up Coming Album
Introducing the new identity of a beloved music group: Balkan Laika! The band has undergone an exciting transformation, and with this new name comes a fresh energy and renewed passion for their music. 
To celebrate this exciting new chapter, Balkan Laika is preparing to release an album of its greatest hits. This album will be a celebration of the band's musical journey so far, featuring fan-favorite tracks and hidden gems that showcase their unique sound and style. 
"Our new name represents a new beginning for us as a band," said Zhenya Rock, leader of the band. "We're excited to share our music with our fans under this new identity, and to continue creating the kind of music that has always resonated with our audience." 
With their signature blend of electric rock n' roll and Balkan beats, Balkan Laika's has captivated audiences all over the world. This album will be a chance for fans old and new to rediscover the band's music and to experience it in a whole new way. 
So get ready to rock out with Balkan Laika and celebrate their exciting new chapter with their upcoming album of greatest hits. Stay tuned for more information on the release date and where you can get your hands on a copy.
The album will feature fan-favorites like "Ya Krivoy" and "Love bite", as well as newer tracks like "Trendy-Brandy" and "Burn as a Thorch". It's a testament to the band's growth and evolution over time, while still staying true to their signature sound. 
Balkan Laikas has been making waves in the world music scene for years, and anticipation is high for their latest album. While the release date is not yet determined, fans can stay up to date by following Balkan Laika's on their social media channels or by visiting their website
Press / Reviews
"

Here is one of many funny stories about balalaika (3 string triangle Russian folk instrument). I was playing the gig downtown Austin at Frank & Angie's and the guy in the cowboy hat across the room was having dinner, listening to me, and paying attention to what I was doing. When he finished, he headed for the door then he stopped and said: So hey, why the three strings?"
"

Before coming to Austin, I lived in Los Angeles most of the time. More precisely, we were based there, but most of the time I lived on the bus, since I traveled a lot with tours throughout America. I was in the Red Elvises group. Before I left the band in 2004, we recorded 11 albums and 4 movie soundtracks. And I founded the Flying Balalaika Brothers when I moved to Austin in 2008."
Press photos