Roma (Gypsy) Rock band Balkan Laika's (a.k.a. Flying Balalaika Brothers) blends modern-day and traditional sounds to create a futuristic fusion of experimental world music.
Balkan Laika is a shining example of cross-cultural communication and assimilation, demonstrating the true potential and beauty of multicultural cooperation and harmony in the world. Their music reflects this harmony, and audiences all over the world have been captivated by their electrifying performances. 
Balkan Laika's is not just another band; they represent a near-perfect example of cross-cultural communication and assimilation. Their music brings people together, transcending language, race, and culture. Their sound is bold, fresh, and energetic, and they have already made a name for themselves in the music scene, earning rave reviews from critics and audiences alike.
Band performances in the past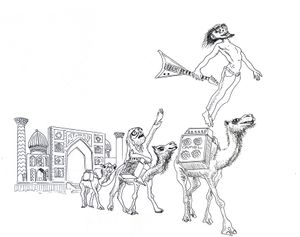 Fairs and Festivals
International Festival de Louisiane The largest international music and arts festival in the USA
Lotus World Music and Arts Festival is one of the oldest world music festivals in the U.S. and the only festival of its kind in the state of Indiana.
Llano Earth Art Fest is Home to the World Rock Stacking Championship. Most unique event- featuring art, food, crafts, lots of rocks, and great musicians.
JetLag Festival is an annual open-air music festival that highlights traditional and contemporary trends in music, poetry, and performance art. The largest festival of  
Slavic, Balkan, and European music in the USA
Art Outside is Fully immersive a 3-day camping fest. Highlights include visual artists, interactive workshops, and four stages of music.
Poluostrov Festival The largest California festival of  Slavic, Balkan, and European music. Over 3k attendees. 
World Steampunk Exposition and Makers Fair a trade show-themed Victorian and Science Fiction. The World Steampunk Exposition and Makers Fair has patterned off the 1893 Chicago World's Fair or the 1884 World Cotten Exposition that was held in New Orleans.
UTOPiAfest This family-friendly festival in Texas features two main stages with no overlapping sets along with free car camping, lake swimming, yoga, and hiking. Utopiafest while camping under a total eclipse is a Texas total cult festival.
Plano Steinfest Largest Texas Oktoberfest-style event hosted by the Historic Downtown Plano, TX
and many more...
Clubs and Venues
  


New Orleans, LA:
House of Blues, dba, One Eyed Jack's, Howling Wolf, Tipitina's, Maison, Joy Theater,  
The Music Box Village  

New York, NY: 
Carnegie Hall,  Apollo Theater, Webster Hall, Drom
Santa Monica, CA:
Broad Stage Theatre  

Chicago, IL:
Metro, The Hideout, Chicago Cultural Center   

Denver, CO:
Ogden Theater, Summit Music Hall
  
San Francisco, CA:
Boom Boom Room, Samovar, Chez Nous 
Austin, TX:
Continental, Cactus Cafe, Sahara Lounge, Antone's Nightclub, Parish, Elephant Room, Do512 Lounge, Majestic Music Hall, The Far Out Lounge & Stage
Boston, MA:
Paradise Rock Club, Museum of Modern Renaissance,
Performances & Share Stage with: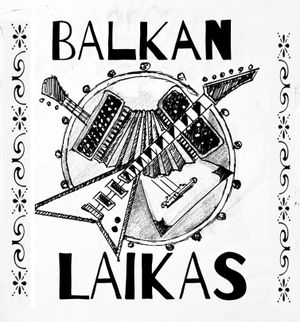 Music
0:00/2:55

0:00/2:36

0:00/3:01

0:00/2:02

0:00/4:20
Press photos
Balkan Laikas (a.k.a. Flying Balalaika Brothers) Press / Reviews